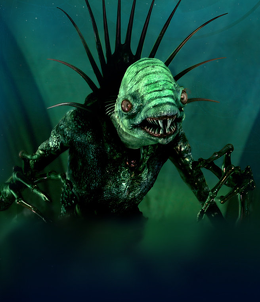 The Saturnyne fierce Fish like Vampires

The Saturnynes can alsoi be known as Saturnynanians. It is said that Rosanna Calvierri leader of the remaining Saturnynes had been taken into the Crack in time which looked like the one on Amy's bedroom wall and their Planet was lost. Rosanna's male species live under the waters of Venice so Rosanna had to make Human girls into Saturnynes. Rosanna had her son Francesco with her a very good swordsman but he did care for his mother too much as Rory had learned.

Rosanna used a machine too try and make her species take over Earth because they looked like Vampire Fish Humans. Rosanna had her school for girls which were a vampire school. When the Doctor's new friend had blown himself and his house up he also killed Rosanna's Calvierri girls. Rosanna's transformer didn't work so she was stuck in Human form but she activated he machine and the Doctor stopped her. Any girl at her school which betrayed her she fed to the male Saturnynes.

Then Francesco was killed fighting Rory as Amy shawn a light on Francesco burning him to ashes. When Rosanna lost she head to where her species were and took off her royal clothes and she looked like a Calvierri girl. The Doctor tried to save Rosanna but she jumped in and got eaten by her species. Her species thought she was a human because her transformer broke and she didn't want to live anymore her plans were foiled.